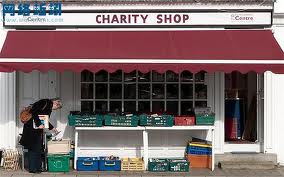 I overheard a conversation on a bus this week that changed my whole outlook on donations to certain charities: a young mother with a baby and a child about 7 years old, sat down in the seat in front of me and the boy said to his mother "Can we go to the charities later?". I was intrigued, and wondering what he was referring to, listened more intently and the conversation went like this:
Mum: We'll see, they're a bit dear…..we'll see
Child: I've got 50p from Nan
Mum: You won't get anything for 50p
Child: How much have you got Mum?
Mum: Not enough love
Child: When can we go?
Mum: Let's see at the end of the week and I promise I will save something and we'll go
As I got off the stop there was an OXFAM charity shop directly in front of me and so I went in. Could things really be that expensive in charity shops that young families had to save up to buy things in them? After looking around at clothes, books, toys and various household items – I have to say yes, things really are that expensive in charity shops that young families do have to save up to buy things in them.
The irony is that now, at this time of financial crisis for all families but especially young, struggling families who often have to survive on benefits – the charity shop is their only way of clothing their child and themselves and it seems that even this forum excludes them.  The volunteers (I presume they are volunteers) seem totally oblivious to the real need of the group in front of them.
I stood at the back of the shop and watched as old people, young people, students and children picked things up, looked at the price, and often put it down again.  I understood the frustration of one old lady who said increduously "How much?? the handle is loose – could I have it cheaper?" to which the Sales Assistant replied loudly "If you dont want it, put it back – we do not negotiate on price".  It felt that the world had gone mad: an old lady in a charity shop, looking to buy a broken handbag being spoken to as if she was in Harrods trying to haggle with the jewellery staff.
I was on a mission at this point and walked further down the road to the SCOPE charity shop and checked the prices there and picked up a child's coat at £8.99 – I had seen a brand new one at the large supermarkets for a similar price (tip there for parents of young children looking for a coat, check out TESCO and ASDA before you visit a charity shop)
Some of the prices were ludicrous – a Primark shirt at £4.99 (i doubt that it cost that new). An M&S skirt that was only £1 cheaper than it would cost to buy new.  Bits of toys in a bag at £3.99 (what is this obsession with the "99p" – even the proper stores stopped that psychological scam years ago…..)
I visited one more charity shop in the cluster along the road (obviously the "charities" the little boy was referring to) and nothing was different. RELATE, it seems might wish to foster good relationships within families but not help in concrete ways by providing affordable second-hand items for them.  Counselling is one thing – real and practical subsidies is what is needed right now.
I left the "charities" depressed and angry – these people have lost the plot.  Is there no one in the Head Office of these charities who realises the part they could and should be playing in the community right now. Why are they not realising that the best way they can help is by reviewing their pricing so that the beneficiaries of their charities, be it Cancer research, Cerebal Palsy sufferers etc., can benefit by the money raised as well as (instead of on the back of) struggling families who desperately need their help right now. The charities should be helping by providing affordable second hand clothing and toys? surely there is room for both to benefit?
It is for this reason that OXFAM, SCOPE, RELATE to name just three of these High Street Charity shops will not be on my donation list at all now. Indeed everytime I see a Charity Shop, I will check our their prices and will name and shame them continously. Any money and goods that I can afford to donate to charities from now on will be going to the Salvation Army and local community charities who make concentrated efforts to help struggling individuals and families.
Since I first wrote this, I found one RELATE charity shop that is an example of how things could be – read it here
Eileen Murphy
@EileenHMurphy
info@brief-therapy-uk.com
www.brief-therapy-uk.com