The Prevention and Intervention Programme
As well our our Face-t0-Face training, we now also provide our training courses via MSTeams and Zoom – please get in touch via info@brief-therapy-uk.com or Tel: 07779 242 289 for further information.
Designated as Unique under Tender Regulations, our Prevention and Intervention Programme (P&I) has been utilised by twenty seven local authorities Children & Families Department, social businesses and charities as a whole-team staff training and project development programme with accompanying frameworks, allowing for substantial financial savings while attracting Social Care awards and nominations.
Dependant on the needs of the commissioning body, this programme prepares staff to provide a fast-track resource across Early, Preventative and Crisis interventions.
Cited by the Chair of The Children & Family Select Committee as "An example of excellent practice" following implementation by a local authority who had previously failed to reach targets.
The Programme combines the Solution Focused Model (deShazer '85); Examine, Repair & Move On Approach (Murphy '93), our own Group Work programmes along with the specialist frameworks and structures designed by the Consultancy to achieve better outcomes when working with children, young people and families.
This Programme is accessed as either a 7 or 12-day training programme (tailored to logistics and need of the commisioning agency). Utilized in diverse forms by Local Authorities: some have used it to develop a "Gatekeeping" Service as a front-line resource when working with Children & Families to prevent family breakdown under Section 20 – allowing for the "freeing up" of placements for vulnerable or at risk children. Following the training, the designated team are able to use the approach with even the most hard to reach and resistant groups.
Some Local Authorities have utilized the Prevention and Intervention Programme to create a "change of use" from Residential Unit to Family Support Service, with the existing workers being trained in the Programme.
The programme has also been utilized by Spurgeon's, Action for Children and Catch22 in their role in fulfilling a Family Support resource for local authorities
WARWICKSHIRE COUNTY COUNCIL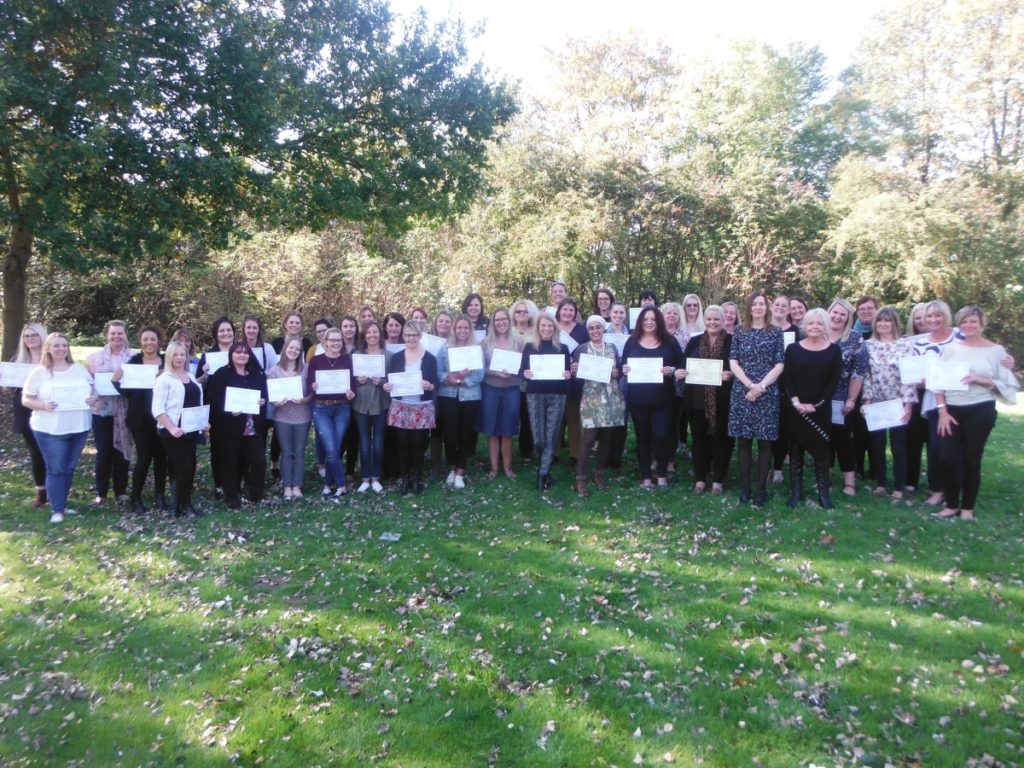 Second intake of delegates in September 2018 receive their P&I certificates from Jenny Butlin-Moran, Service Manager – Safeguarding, Quality & Assurance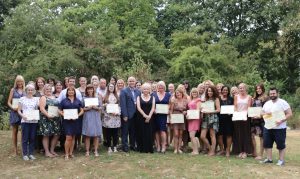 Warwickshire County Council commissioned the P&I Programme for implementation with Children & Families Teams across the Service. The first cohort were trained in July 2018, pictured with the Interim Assistant Director, John Coleman awarding the delegates with their Certificates at the close of training.
Managers and Practitioners have all commented that the training has been a fantastic experience and was repeatedly described as "the best training they have ever experienced". Warwickshire have made the decision to implement a P&I Team focusing the approach with children on the Edge of Care. The whole approach complements our restorative approach of enabling families – who are the experts of their own lives – to establish solutions and safety plans with support. Rather than practitioners acting as "Super Heroes" they have become "Super Enablers".
John Coleman, Assistant Director, Children & Families, Warwickshire County Council
I work primarily with Polish families. In spite of my initial worries, it became apparent very quickly that the language of change is universal and, except for small adjustments that take into account cultural differences, I can use the training in my work straight away.
The training was fantastic – I was kept engaged throughout all twelve days. It shifted my perspective, not only at work but also my everyday life. Thank you Eileen and Mawuli for the best training I have ever been to!
Goshia Carrgher, Social Care Worker, Warwickshire County Council
The P&I Training made a real impact on the way I will go about my practice. Being a Parenting Assessor, it will make a difference to my approach. I will incorporate reframing, The Change Balloon and scaling into my practice but, more than that – my outlook has changed to a strengths-based practice. I found both trainers very inspiring – they used their depth of knowledge in a friendly and approachable way. They were accommodating but made sure that everyone completed the work!
Rajinder Gill, Social Worker, Parenting Assessment, Warwickshire County Council
I will approach visits and meetings with a different outlook. I will have the history in mind but won't continue to raise that and will instead focus on the here and now – small steps. The training gave me a variety of tools to implement to support families and gave me the opportunity to reflect on my practice and how the training will impact on my practice in the future.  The overall feeling from everybody in the training was warm, friendly and very supportive.
Lana Harrow, Family Support Worker, Warwickshire County Council
This has been the most relevant training that I have attended. This knowledge will enable me to deliver a far better service for  families that I work with. By focusing on the strengths instead of the deficits within the family dynamics, this will empower them to move forward and find sustainable solutions within themselves for a better fulfilled family future. By being the "conduit" and not a "fixer" or "analyst", I will have more energy to work more efficiently. Eileen and Mawuli were inspirational and empowering, we all learnt a great deal. The training was at a good pace and the regular "head shake" breaks allowed us to concentrate more and absorb more information. Thank you.
Michelle Reeves, Family Support Worker, Family Focus Team, Warwickshire County Council
I found the training extremely "hopeful" in its approach and that is something that my clients will and are benefitting from. I am using the tools provided on the course and feel that any client, at any level, will be able to use it with us supporting their goals and progress. Eileen and Mawuli were brilliant trainers and the combination of their anecdotal and theoretical information really served to embed what we were learning.
Katie Sibley, Project Worker, Different Future, Warwickshire County Council
CATCH22 & COVENTRY CITY COUNCIL
In February 2018, Catch22 replicated the successful 'Project Crewe' structure with FACT22 in partnership with Coventry City Council. In Coventry this involves the establishment of two new Child in Need Teams comprising of social work and non-social work qualified family practitioners who will deliver support through the resources of the Prevention & Intervention Programme, – using strengths based models, including the Solution Focused (deShazer) modelin the planning and engagement with families. Supported by volunteers the service aims to improve the quality of support and intervention to families at this end of the continuum of need. Joanne Wright, Service Manager, FACT22, Coventry CiN Service, will be leading the team pictured below:
Catch22 were approached to develop a partnership with Coventry City Council aimed at replicating the success and impact of Project Crewe in Cheshire East. The Prevention and Intervention Programme was crucial in that success and provided practitioners with a collaborative way of working, moving away from the frustrating fixer mode of practice and more towards providing a service that focussed on a person's strengths and resources to elicit exceptions and determine solutions. This programme is in the heart of the service and Catch22's vision providing people we support with a solid purpose, a good place to live with good people around them.
Every member of our FACT22 (Families Achieving Change Together) Service in Coventry completed the Prevention and Intervention (P&I) training as part of their induction. A number of the team have worked in family support roles for a number of years and commented that this training was "like a breath of fresh air" with people questioning "why have we ever worked in any other way".
The service is still in its early stages but so far the team have made significant impact in the local area teams with social workers being curious to the model of working especially The Change Balloon which has been shared with social workers and commended by a child's Independent Reviewing Officer. The Family Practitioners and Advanced Social Workers are already chairing Solution Focussed Child In Need Review Meetings and our partners are already telling us they feel excited and empowered by this approach. We are confident that this programme of training with support Practitioner to make sustainable change to children and families and replicate the success of Project Crewe.
Joanne Wright, Service Manager, FACT22, Catch22, Coventry
The examples given throughout the training and the positive and knowledgeable information has made me feel more confident in supporting families. I feel that if all Social Workers and Family Practitioners received this training – much more progress could be made.
Sasha Sloat, Social Worker, FACT22, Coventry City Council
Using the training in my everyday practice will enhance the skills that I currently have. I have learnt new strategies to engage families and help them to find the solutions within themselves and their networks instead of my automatically jumping into "fixer" mode. I am looking forward to using the tools that I have learnt during the training including visuals, scaling and monitoring charts. Both trainers kept the training experience lively, life-like and knowledgeable. I would highly recommend this training.
Natasha Sinclair, Family Practitioner, FACT22, Coventry City Council
SPURGEONS, BIRMINGHAM
Spurgeons has been working with children and families for 150 years and currently deliver 100 services across the UK. Their services reach over 37,000 children. The Spurgeons ARCH service provides 12 week support to children and their families to help improve their emotional resilience. The Spurgeons CAMHS team works with families of children and young people who are experiencing high levels of emotional and/or behavioural difficulties. The Phoenix Project provide a confidential service to young people and their families who are at risk of sexual exploitation. Staff from all three groups undertook our Prevention and Intervention (P&I) Programme.
This training has been excellent – it was good to complete this as a team together so that we are all working to the same, consistent, method. This training allows us to empower children and families and progress change.

It was an informative course with excellent facilitators who really inspired and motivated us. I didn't want it to finish in one sense but was fired up and keen to implement the programme with children, young people and parents.
Sally Stokes, Childrens Service Manager, Spurgeons
TEAM AROUND THE FAMILY, RHONDDA CYNON TAF COUNTY BOROUGH COUNCIL
As a manager of a family project which focuses on early intervention and prevention, our work largely focuses on interventions with families one stage before statutory and specialist services. The team has a lot of experience and we have accessed a lot of training (including previous solution focussed courses).

The Prevention & Intervention Programme came highly recommended by a colleague. The different teaching methods used in the sessions meant that they were engaging practitioners whatever their learning styles. Group work, individual preparation, videos, handouts – the sessions and resources were varied and pitched to keep the course interesting and energised. The concepts presented, for example 'the Change Balloon', consolidated ideas and gave a fresh perspective to solution focused techniques. The feedback from the team was that the handbooks provided useful examples and activities for ongoing work sessions, as well as reminders of the session content. Another difference to other courses that I found was the encouraging, nurturing approach used by Eileen and Mawuli. I felt that this gave the team the confidence to use the new approaches and the belief that they were using them correctly after opportunities to practice them during the sessions.

The follow up sessions and ongoing support offered by the team are excellent, with supportive emails and telephone calls to check progress and trouble shoot teething problems. The change in the team has been remarkable, and for the first time in a long time they are seeing changes with families within a shorter timescale. Their morale has been lifted through enabling the families to work through the difficulties themselves, and removing the stress of workers feeling the need to try to fix things. As a manager I have used the training in a team context, in terms of changing the environment, our processes, paperwork and for individual supervision.

Watching both the families and staff members grow from finding their own solutions to their problems has been one of the best outcomes I could have hoped for. In short, there is nothing I could suggest to improve this training, and can only identify positives.

From the newest team members, to the most experienced, everyone came away with more knowledge and a refreshed outlook to family work.
Cathrine Silver, On Track Team Manager, (on behalf of Team Around the Family) Rhondda Cynon Taf  County Borough Council, Wales
PROJECT CREWE, CATCH22, CHESHIRE EAST

Cheshire East and Catch22 are developing an exciting and innovative service – Project Crewe.
Funded by the Dept for Education's Innovations in Social Care programme and evaluated by The Behavioural Insights Team. Find Out More Here
The service aims is to achieve positive sustainable outcomes for families with children aged –
0 to 19 years old who are identified as Children in Need.
Our P&I Programme was commissioned to create this Solution Focused Family Coach Team and the support provided by the Team include:- Targeted and Intensive engagement for children and families
Dedicated keyworker support
Planning, delivery and review of individual programmes of support (Child in Need plans)
Multi-agency coordination and lead professional role
Signposting and support to access positive activites
Volunteer mentoring from adults and young people
Project Crewe has now been renamed FACT22 (Families Achieving Change Together) and will be replicated elsewhere following evaluation published by the DfE in July 2017
The entire Prevention & Intervention training programme has been a pleasure. Each day opened new doors and gave more ways to look at how we could implement this new style. Because the training was delivered to the whole of the new team, it will enable us to support each other and encourage the use of new skills and tools.
Karen Mitchell, Family Practitioner, Crewe
Feedback from Catch22 after 3 months of implementation:
When we were creating our model for Project Crewe, we were keen to implement a solution focused approach as we had undertaken training with Eileen Murphy Consultants previously and found the training to be motivating and inspirational for our staff, as well as being in line with the Catch22 ethos and values.

Our Project Crewe team completed the Prevention and Intervention (P&I) training as part of their induction and we have utilised the methods and approaches in our work with children and families identified as Children in Need under Section 17 of the Children's Act.

The impact so far has been significant. To date only one family has refused to engage positively with our team, parents are telling us that they feel listened to and supported and that we are focused on helping them to move forward and improve, rather than telling them what they are doing wrong, which is what many of them have experienced previously. We use the P&I approach in our multi agency work as well; our Family Practitioners and Social Workers chair solution focused review meetings and our partners tell us that they feel engaged, empowered and positive about this approach. The Prevention and Intervention Programme has had a huge impact on our work and on the outcomes for the families we support and we are confident that this is an approach which will enable families to sustain their positive progress into the future
Sam Dutton MBE, Senior Service Manager, Catch22 Cheshire
EAST RIDING OF YORKSHIRE COUNCIL
The East Riding of Yorkshire Council Prevention & Intervention Programme (PIP) team, pictured above with Eileen Murphy (far left) and Graham Batty, Project & Practice Development Officer (far right) at the launch of the service in 2010.
Feedback from East Riding of Yorkshire Council, after two months of implementation:
The P&I implementation has been going very well to date. The team are using the skills successfully with families which is being reflected in the number of referrals we are now receiving from services across the board such as Health, Education, Youth Services as well as the Family Support Teams within the East Riding for the more intensive work. Since the training the team has worked with over 35 families, of which, none of the children have entered into the care system. Since the end of March 2010 3 Family group meetings have taken place successfully with the families devising their own plan to support the young people within the family environment. The P&I training is providing invaluable in both the crisis intervention work and the family group meetings which the team facilitate. Due to the transferable skills the team are also using the P&I training in various pieces of parenting work aiding families to remain together as a unit.
Andrea Wallis,Team Leader, Prevention and Intervention Team, East Riding of Yorkshire Council.
SPURGEONS WALSALL, WEST MIDLANDS
The Spurgeons Team completed their P&I in 2009:
The training gives a more effective and efficient way of working, skilling-up staff to work with families. This approach is definitely the way to work with families as it draws on the family strengths. The training was delivered very well – encouraging staff to implement the practice in their day-to-day work wih families immediately!
Harjinder Khatkar, Manager, Spurgeons, Walsall
As part of the P&I implementation, the Consultancy offer a "house doctor" review on the built environment in order to use existing resources to de-stigmatise "statutory intervention". Spurgeons Walsall, led by Harjinder Khatkar have created an inviting, comfortable space, pictured above, for working with families.
SALFORD
Salford City Council commissioned the Prevention and Intervention Programme to create The Brief Intervention Team in Salford – a city wide service with a focus on young people aged 7yrs to 17yrs and their families.
The aims of Salford's service are:
To reduce the risk of family breakdown
Support families in over-coming relationship issues
Reduce the risk of permanent exclusion from school
Support the reunification of Looked After Children
Prevent foster placement breakdown
OXFORDSHIRE COUNCIL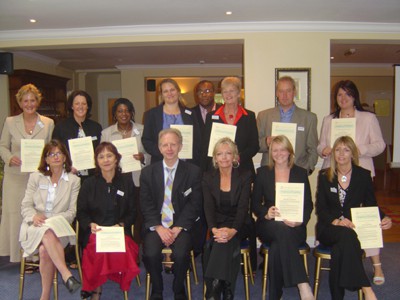 The Oxford Prevention and Intervention Practitioners receiving their completion certificates from Director of Social Services, Charles Waddicor. Oxfordshire Council implemented the P&I Programme in 2005 as part of their Children & Services Plan
LONDON BOROUGH OF MERTON
The Consultancy were commissioned to train Family Support staff and the staff of the Phoenix Project run by Action for Children in 2005. The Care Matter Green Paper 2007 picks out the Phoenix Project as an example of best practice in crisis intervention: "The project received 181 referrals from during 2005-2006 with 118 children and young people prevented from going into care".(source: www.cypnow.co.uk).
DUDLEY METROPOLITAN BOROUGH COUNCIL
Dudley commissioned the Prevention and Intervention Programme for implementation with with the Family Support team at Greystone Passage.
Dudley Launch Information Release:
As a contribution to the local preventative strategy, the Children and Families Division has implemented the Prevention and Intervention service. The initiative is based on messages from research around supporting families and links with refocusing to provide a prompt preventative service.
The approaches embodies a forward-looking model and sets family-identified and family-owned targets over a short intervention period of 6 sessions. The language used is accessible and emphasis is given to engaging with the practical mindset of families, working within the family, socio-economic and ethnic cultural framework of building strengths.
Goal setting and graded achievement is an integral part of the process so that progress can be readily recognised by participants. Both parent and child are worked with in the session. Other family members and significant players, including teachers, will also be involved as appropriate.
The service will provide an extensive package of support to young people and their families. It wil offer a rapid response to emergency referrals and immediate request for accommodation in respect of children referrred under Section 20 will be firmly resisted until the intervention is completed.
By having the whole family together in a neutral setting it gives them a chance to listen to each other as well as to be heard and to know that their opinions are valued. The family then move from problem dominated thinking towards solution orientated thinking, talking and description. The trained practitioner acts as a conduit to move the service user from victim to a position of recognising their own strengths, resources, competences and solutions.
There are currently over 140 families receiving a service. The training in the summer had an extremely positive impact on the teams and staff morale remains high. The resulting self confidence and optimism is brought to the families during the sessions and the successful outcomes so far achieved reinforces how powerful this method of intervention can be. In terms of impact on the organisation the desired outcomes of the service were, for children and young people aged 11 and over ;
Increase service user satisfaction
Reduce the size of the Looked After population
Reduce the number of new admissions to care
Reduce the duration of care episodes
Reduce spot purchased external placements due to capacity issues
Reduce out of hours admissions
Questionnaire returns over the last six months have indicated a high level of satisfaction from families and service users and data from our management information systems show a significant drop of around 50% in the number of new admissions to care for this group of young people including a sharp fall in out of hours admissions. In the last few months the directorate has been able to bring back four young people from external placements which were made due to lack of internal capacity.
John Donnelly Service Manager – Family Support – Dudley Metropolitan Borough Council
ISLE OF WIGHT COUNCIL
Isle of Wight Council implemented the Prevention and Intervention Programme with their Family Support Outreach Team.
Feedback from the Director of Social Services & Housing:
I have used Eileen Murphy Consultants as a change agent for social workers and their managers to divert young people from the care system. Eileen Murphy developed the approach when I was Director of Housing and Social Services in Sutton and I re-engaged her to work on similar issues on the Isle of Wight. In both cases her approach made a significant difference to the numbers of young people going into public care. On the Isle of Wight we have reduced the numbers in public care by 12% in 2 years against a national trend of rising numbers. Much of this reversal I put down to the effectiveness of Eileen and her colleague's training and teaching. The Isle of Wight has established itself as a 2 star authority after a failed Joint review in 1999. The SSI have determined we are serving most children well and have promising prospects for improvement. I would have no hesitation in recommending Eileen Murphy Consultants for work in this area.
Charles Waddicor, Director of Social Services & Housing, Isle of Wight Council (then Director at Oxfordshire County Council)
BRACKNELL FOREST
Bracknell Forest Borough Council implemented the P&I with a wide group of Children & Family staff:
The Prevention and Intervention training was received enthusiastically by Bracknell Forest children's teams who are now using their skills in everyday situations with the children and families they work with. The training has changed our way of thinking and shifted the emphasis from problem solving to looking at change and possibilities. The training was fun and very well presented and the next "batch" of social workers are waiting eagerly to complete the training. We are using the tools and have had some very good results. We are now able to offer families an alternative and by enabling them to take control – the results speak for themselves.
Verna Goodman, Director, Bracknell Social Services.
LIVERPOOL CITY COUNCIL
The P&I was implemented by Liverpool City Council in 2000.
Eileen Murphy and her colleagues have been an inspiration to staff enabling them to develop their skills and achieve what, at the start, they considered impossible. The Consultancy's approach empowers individuals to work positively with young people and their families and to achieve results that mend broken relationships. Eileen Murphy Consultants have also trained the staff at Liverpool Secure Unit and the feedback from staff is positive and the young people in the secure unit are experiencing a professional service that allows them to start putting their lives onto a different plane. The Consultancy is now engaged to train young people as mentors to work supporting other young people.
Annie Shepperd, Executive Director, Liverpool City Council (then Chief Executive, London Borough of Southwark Council)
Further feedback from both Senior Management and front-line staff is available on the Evaluation Map.
The Programme is designed for use by teams who wish to use the approach as a focused whole-team resource when working with clients to bring about change.
The Programme is also offered to YOT teams to prevent recidivism., Drug & Alcohol Teams to help clients achieve change and to Education teams to reduce disaffection and exclusion.
For an informal conversation or to receive a Prevention and Intervention Brochure, please contact us on Tel 0208 947 8093 or  07779 242 289 or email info@brief-therapy-uk.com