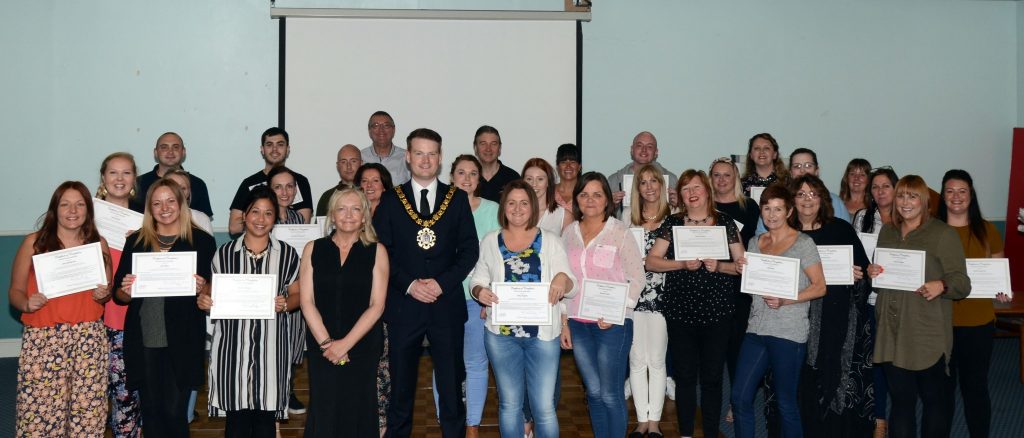 Mayor of Rhondda Cynon Taf, Rhys Lewis, awarding the Communities First Team with their Solution Focused Life Coach Training Certificates.
As well providing our courses Face-to-Face, we now also provide our training courses via MSTeams and Zoom – please get in touch via info@brief-therapy-uk.com or Tel: 07779 242 289 for further information.
Our Solution Focused Life Coach Training and Development Programme was launched in Wales with the Communities First Engagement Workers. The ethos of the Life Coach Programme is to help individuals to achieve for themselves, to better self-care, to self-identify goals and strategies that will bring any required change to themselves and their family.
Our 12 day programme was commissioned in keeping with the ethos of the Communities First Plan 2016-2017:
"Tackling poverty is a key priority for Rhondda Cynon Taf Council, with a high level of commitment from Elected Members, officers and frontline staff to minimise and mitigate the impact of poverty.
Officers across partner organisations are currently working together to phase in a single, coherent tackling poverty programme. The first significant step has been to restructure the Communities First programme and refocus the service design that takes the best aspects what's currently being delivered and promotes a more consistent approach across the eight Communities First clusters in the County Borough.
This will be achieved through a targeted local community engagement approach to support early intervention and prevention for those identified as being most at risk and in need of support. In line with an asset based approach to community development and the Social Services & Wellbeing Act, Communities First Engagement Workers will work with individuals, listen to their aims for the future and support them to achieve their outcomes. This will include providing one to one mentoring support for someone as they visit an existing local specialist service in the community for the first time supporting them to 'step-up' or "step-down" from a service as they move towards reaching their goal or assisting them to reconnect with their community, family and develop their self confidence through local engagement activities" (Communities First Plan 2016-2017)
Research tells us, notably that of Professor Ellen Langer of Harvard University and proponents of system theory such as Russell Ackoff and Peter Chekland, that the "tell and explain", "warn and cajole" approach does not work for the majority of individuals. Whether its self-care or resolving difficulties. What is more effective is working with the unique resources and strategies of the individual and how they live their lives because only the individual knows what works for them, what doesn't work for them, what attracts them, what repels them.  Only the individual knows what the required change would look like in real and practical ways.
Often, change has its beginning in the smallest of steps: in conversations about "tomorrow" rather than "yesterday" and questions about what small actions would tell the individual that they were moving forward. It is in the small detail that goals can identified – these conversations are more conducive to sustainable change because only the individual knows the answer e.g. "I would know I was getting stronger if I didn't ask my mum to pick the kids up from school but got them myself".
At the close of the Solution Focused Life Coach Training, Nicola Lewis, the Communities First Co-ordinator said:
To give staff the necessary skills to provide one to one mentoring support, we have invested in a comprehensive "Solution Focused Life Coach" Training and Development Programme with Eileen Murphy Consultants, London, following a recommendation from one of our partners.
This training has allowed us to have a consistent approach and a framework for all of our staff to use when working with their clients. They have thoroughly enjoyed the training and are very enthusiastic to use the tools and skills learnt.  Eileen Murphy and Mawuli Amesu made the training interesting, fun and totally engaging – we would definitely recommend".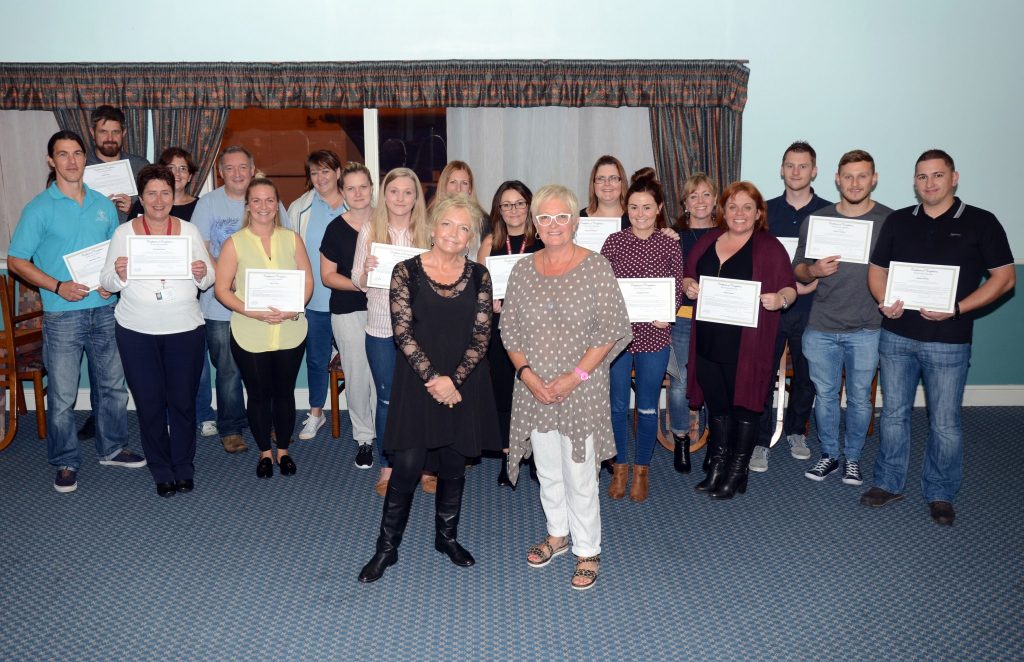 The second set of Communities First staff group completed their training in September and are pictured above receiving their Completion Certificates from Councillor Joy Rosser, Cabinet Member for Prosperity, Wellbeing & Communities.
Feedback from delegates:
Attending the training has given me a far greater understanding of how our staff teams can use the approach to support community members and groups. It is already being used to good effect.
Andy Phillips, Cluster Manager, Communities First, Rhondda Cynon Taf, Wales

As the model is being implemented within my area of work the training will be influential on a daily basis. It has made more aware to stray away from being the "fixer" as I have been in the past and to support the individual to make their own decisions. It is also a great way of tracking and witnessing progress.
Adam Bowen, Community Engagement Worker, Clydach Vale, Wales

The training will influence my work because it made me think more about thoughts and habits and the breaking of them and trying to get out of a cycle and try something new. Even in small stages – any change towards a better life is better than no change.
Alison Jenkins, Community Engagement Worker, Mountain Ash, Wales

I thoroughly enjoyed this training – it has changed me as a person by allowing me to look at how I deal with service user issues and I realise that it is the individual themselves that must focus on fixing themselves and set themselves tasks. 
Tarah Morgan, Community Engagement Worker, Cwmclydach Development Centre, Wales
The training is appropriate for workers across diverse fields whose work involves helping adults, children, young people and families to achieve change, resilience and recovery.
In 2021 we hope to further develop our programme with local authorities and Health Care services to develop a fast-track, drop in resource for the whole community in order to prevent escalation of difficulties in order  to reduce the impact on Social and Health care caseloads. Our article in The Guardian gives a wider view
For an informal conversation about our Solution Focused Life Coach training and development programme, call us on 07779 242 289 or email info@brief-therapy-uk.com